Calendar
New Years Eve 20224
December 31, 2023 7:00 pm
Ring in the New Year at your favorite spot in St. Louis with live performance by Cody Clark on the Main Stage and DJ Kue in the Green Room ! VIP and skip the line packages available now!
Tickets and VIP Packages
Ugly Sweater Party!
December 9, 2023 9:00 pm
Show off your ugliest sweater for a chance at some awesome prizes! Great Drinks and Awesome Live Music by Legends Undercover in the Live Room and AYDAMN DJ in the Green Room!
Free Rides to Home Blue Games!
Take the stress out of finding parking and a ride to the Blues Games! Free parking and golf cart rides to the game available at Tin Roof for every home Blues game!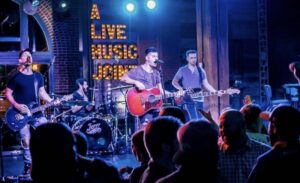 Weekend Nights at the Roof!
Open until 3am with live bands playing your favorite songs on stage while a DJ spins dance tunes in our Green Room section every Fri & Sat night!
Join Our Tin Roof Team!
We are looking to add some great people to our Tin Roof Crew! Now hiring Door Personnel, Expo/Food runners, and Servers! Apply in person or reach out to Derrick@tinroofbars.com!
Book Your Holiday Party at the Roof!
Are you feeling the holiday spirit? We certainly are! Time to start planning your holiday parties and we've got you covered. Ask us how you can receive a complimentary acoustic set, DJ, s'mores bar or hot chocolate bar when you book your event.
Inquire Here!
NFL Sunday Ticket
Tin Roof is your NFL HQ all season long! Dozens of TVs with Game Day Platters and Drink Specials!
NASHVILLE HITS THE ROOF
Discover the next big star to come out of Music City at this FREE concert series!